Curtis Clark works high up on the new Goliath roller coaster under construction at Six Flags Great America in Gurneee, Ill on April 30, 2014.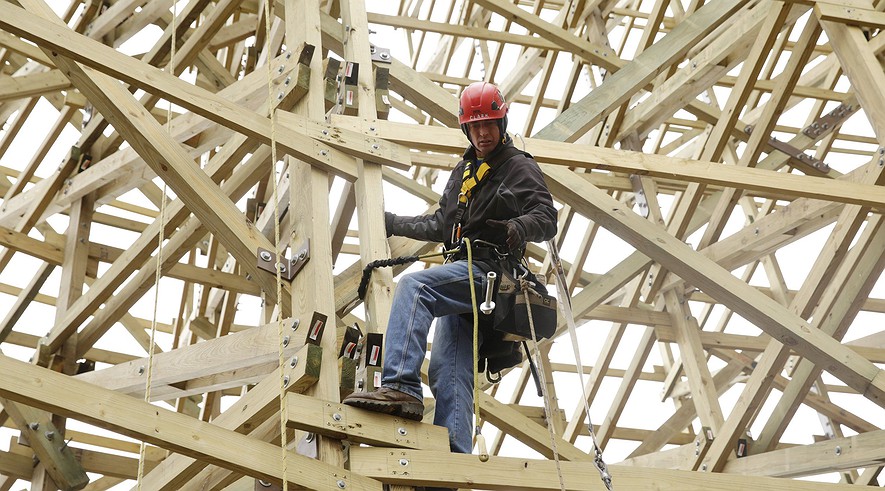 Designer Alan Schilke's job is to make people scream. Schilke is a hotshot roller coaster designer, who is building a massive record-setting wooden roller coaster at Six Flags Great America. He has had to work hard to fit the large scale design on such a small construction site. When its finally complete, Goliath will be the fastest and steepest wooden roller coaster in the world.
Read the following article, and then, using evidence and details from the text to support your answer, respond to the following prompt:
Open Response Question: There have been many changes in roller coaster design and construction over the years. Describe three changes that the Rocky Mountain Construction Group has put into place and the benefits of assembling roller coasters in this manner.
There are many advantages to finding a woodworking career in today's marketplace. On the other hand, these are difficult economic times and the construction industry has suffered with a lack of new construction in some areas of the United States. New homes and businesses are not being built at the rate they once were.
Open Response Question: Read the article, " The Pros and Cons of Becoming a Woodworker " and give three reasons for becoming a carpenter/woodworker OR read the article and give three reasons for not becoming a carpenter/woodworker. Support your answer with specific details from the text.
Felling trees can be very dangerous work which requires careful planning, the correct tools and lots of experience.
Open response question: Read the following essay and then using details taken from the text describe the three most important steps in felling trees. Be sure to review and proofread your answer before handing in a final product.