Find The Passwords You Need Here
To access these databases from home or off campus, you will need the username and a password. Click on the link below to find what you need.
This database integrates award-winning biographies from respected sources with related full text articles from hundreds of magazines and newspapers, as well as thousands of images and links to vetted websites.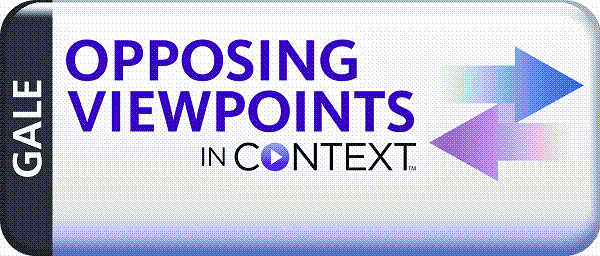 Writing an opinion piece? Browse hundreds of topics, and narrow your search to include a variety of sources.
U.S. History in Context is an engaging online experience with contextual information on hundreds of the most significant people, events and topics in U.S. History. Content is referenced with full-text magazines, academic journals, news articles, primary source documents, images, videos, audio files and links to vetted websites organized into a user-friendly experience.
World History In Context reaches back to the ancient world — and forward to today's headlines — to deliver a chronicle of the great cultures and societies that have formed the history of the human race. Rare primary sources, reliable reference and multimedia content put this vast topic into context for students.
Scope and Depth
More than 1,700 primary source documents from Primary Source Media and other reliable providers join hundreds of acclaimed, award-winning titles from Gale, Macmillan Reference USA, and Scribner, including:
Dictionary of the Middle Ages
Gale Encyclopedia of World History
Encyclopedia of the Holocaust
Encyclopedia of the Renaissance
Global Events
Historic World Events
Historic World Leaders
News and Multimedia
More than 2,000 maps and atlases provide ideal context.

Engage users with thousands of images, videos, and audio selections, from sources like archival newsreels, Critical Past, The History Channel, BBC News, NPR, and more.
Full-text periodicals and journals include History Today, The Historian, Spectator, World and I, and more.
Academic Search Premier (EBSCOHost)
| | |
| --- | --- |
| | This multi-disciplinary database provides full text for more than 4,600 journals including full text for nearly 3,900 peer-reviewed titles. PDF backfiles to 1975 or further are available for well over one hundred journals and searchable cited references are provided for more than 1,000 titles. |
Business Source Premier (EBSCOHost)
Business Source Premier is the industry's most used business research database, providing full text for more than 2,300 journals including full text for more than 1,100 peer-reviewed titles. This database provides full text back to 1886, has searchable cited references back to 1998 and provides full text coverage in the disciplines of business: marketing, management, MIS, POM, accounting, finance and economics. This database is updated daily on EBSCOhost.
Use this EBSCO link to search multiple databases at once. For subject specific databases, consult the subject headings in this guide.
From home, or off campus, access these passwords using the pdf in the upper left hand corner box of this guide.
Funk & Wagnalls New World Encyclopedia (EBSCOHost)
This database provides over 25,000 encyclopedic entries covering a variety of subject areas.
Gale Virtual Reference Library (ebooks)
This database of encylopedias and specialized reference sources for multidisciplinary research. These once were only available in the library itself, now they are ready to use at any time. Use the password: mona_log
GreenFILE offers well-researched information covering all aspects of human impact to the environment. Its collection of scholarly, government and general-interest titles included content on global warming, green building, pollution, sustainable agriculture, renewable energy, recyling and more. The database provides indexing and abstracts for more than 384,000 records, as well as Open Access full text for more than 4,700 records.
Health Source- Consumer Edition (EBSCOHost)
This database is the richest collection of consumer health information available to libraries worldwide, providing information on many health care topics including the medical sciences, food sciences and nutrition, childcare, sports medicine and general health. Health Source: Consumer Edition provides access to nearly 80 full text, consumer health magazines.
MAS Ultra School Edition (EBSCOHost)
Designed specifically for high school libraries, this database contains full text for nearly 500 popular high school magazines. It also provides more than 360 full text reference books, over 85,000 biographies, over 100,000 primary source documents, and an Image collection of over 500,000 photos, maps & flags, color PDF's and expanded full text back files (dating back to 1975) for key magazines.
Newspaper Source ( EBSCOhost)
Newspaper Source provides full text for more than 40 U.S. and international newspapers. The database also contains selective full text for 389 regional U.S. newspapers. In addition,full text television & radio news transcripts are also provided.
Regional Business News (EBSCOHost)
This database provides comprehensive full text coverage for regional business publications. Regional Business News incorporates coverage of more than 80 regional business publications.